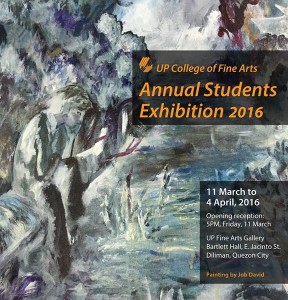 The UP College of Fine Arts Annual Students Exhibition 2016 will be open to the public from March 11 to April 4, 2016 at the UP Fine Arts Gallery.
The exhibit features paintings, drawings, prints, sculptures, photographs and digital art produced by undergraduate students who responded to an open call for submissions. The exhibit is curated by Prof. Benjie Cabangis.
The participating artists are Laura Jermina R. Abejo, Samuel Bien Sandro T. Astejada, Joseph Luigi B. Almuena, Rhey Kenneth Balasanos, Rojan Elmo C. Barcelon, Samuel Bien Sandro T. Astejada, Kean A. Barrameda, Ranier L. Biglang-Awa,  Camille M. Cabatingan, Ian Cadiong, Venus Mar E. Caparal, Jomari B. Caya, Shawn Michael Dalida, Job Abednego Y. David, Carlo P. De Laza,  Tammy B. De Roca, John Paul Diciembre, Marius Joseph E. Dideles, Gabrielle R. Encarnacion, Ianna Oda Pauline Engaño, Babylyn G. Fajilagutan, John Gaño, Eeron Kenzo E. Has, Renz Lee, Francheska Rae Z. Lirio, Raphael Lawrence S. Marcos, Naomi B. Mendoza, Edilberto Lorenzo R. Morelos, Jr., Anton R. Nartea, Earl Nicolai B. Navarro, Faye Louise L. Pamintuan, Bryan S. Pollero, Gabrielle Marie C. Prado, Vincent Ryan M. Ramos, Lance Jericho E. Reblando, Therese Nicole M. Reyes, Abraham B. Rodriguez, Jamaica Maida P. Rosal, Julio Romualdo B. San Jose, Gian Paolo C. Santos, Jonathan V. Santos, Sarah M. Toraldo,  Raffy Ugaddan, Gabriela Isobelle Niña N. Vaño, Salvador Luis L. Varron, Christian C. Veloira, Hayme Vincent Zulaybar, Michael D. Yam, Gilchrist C. Yap, Jr.,  Aidan Blaise I. Zamora, and students from the SFA 193 (Electronic Art) class of Riza Romero.
An opening reception will be held at 5 pm on Friday, March 11. The exhibit runs up to April 4, 2016.
The UPCFA first started holding annual exhibitions of students' works in the 1970s, during the deanship of National Artist Jose Joya. The UP Fine Arts Gallery is continuing this tradition of exhibiting undergraduate works from its various departments in a single show.
The UP Fine Arts Gallery is located at Bartlett Hall, Emilio Jacinto St., University of the Philippines Diliman 1101, Quezon City. For inquiries, please contact Gilda Sychingiok at 920.9910 (telefax) or 0943.4546204. Visit www.cfa.upd.edu.ph or email upcfinearts@gmail.com for more updates.